Elisabeth Gillem | Portland Custom Clothier & Art to Wear
Custom Clothing Made in Portland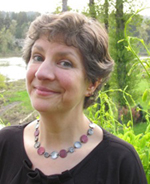 My goal as a dressmaker is to help my clients realize their custom clothing needs – be it everyday garments or a very special event garment or outfit. I have developed my work methods to ensure that we create exactly the garment you want.
I generally speak on the phone to an interested customer and discuss the project, materials, deadlines etc. I then give an overview of what you can expect during the process. We typically make an appointment to meet at my home or a local fabric store if you need a little guidance and or moral support while selecting fabric and pattern etc. People often just have an idea in mind or a picture from a magazine which is just fine as a starting point.
During the appointment we talk over the project in general including fitting timeline, any changes we might make to the design, fabric and notions needed for the project. It is at this time that I can give an estimate of work hours that I'll need to complete the job.
If we want to proceed, I take a full measurement chart and the client is asked to leave a deposit of $50-$100 and all of the materials that they may have gathered. I supply any other notions needed, such as thread, interfacing, shoulder pads etc. and those charges are added to the final bill. For larger projects, I ask clients to add to their deposit as the fittings proceed thereby making the final balance smaller.
There are usually 1-3 fittings and a final fit check before the garment leaves my workroom. During fittings, I give the client reports of how many hours are invested in the project to date so there are no big surprises at the end. The final balance is due when the project is complete and picked up. The final fit check ensures that the complete garment meets all your expectations.
Turnaround time is usually 4-6 weeks depending on the time of year and my workload. We will have discussed any critical deadlines in our first meeting. I am happy to take cash or check.
I am glad to answer any other questions you may have.
Art to Wear | Made in Portland, Oregon
I sell my garments at local wearable art boutiques and art shows in the area. I am also happy to work with a client on a very unique and personal garment using these techniques and designs. These special garments allow me to further express myself with color, shape, style and technique. Each garment or accessory is one-of-a-kind built for a client I know or a customer I have yet to meet.
The surface design and embellishment of these garments evolves through the years as I try new things or am inspired by what I see around me. This creative process allows me to really stretch and grow.
I find this part of my business to be the icing on the cake of a wonderful life of creativity and usefulness.